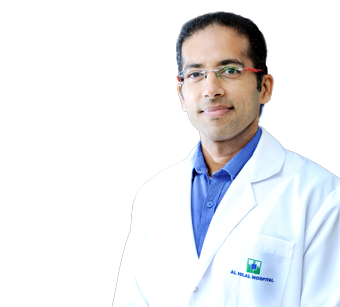 DR DHEERESH KADUKKAN VELLY
Consultant Ophthalmologist
Ophthalmology
MD- GENERAL PHYSICIAN, DNB - OPHTHALMOLOGY
12 years of experience
Muharraq (Bahrain)
About DR DHEERESH KADUKKAN VELLY
Dr Dheeresh Kadukkan Velly is a Consultant Ophthalmologist with more than 10 years of professional experience, both clinical and academic. He is specialised in diagnosis & treatment of Vitreoretinal diseases. He is an expert in examination and management of all types of general Ophthalmology cases including infections, allergies, abnormal growths and removal of foreign bodies. He is also interested in the management of glaucoma and cataract cases. Aside from this, he is skilled in performing delicate procedures and handles both elective and emergency cases. Dr Dheeresh believes in keeping his knowledge base updated and attends workshops and conferences regularly.
Excellence & Experience
Area of excellence
Diagnosis & treatment of Vitreoretinal diseases
Examination & Management of all general Ophthalmology cases
Level of Experience
Tutor in Ophthalmology- Amrita Institute of Medical Sciences, Kochi, India -2009-2010
Consultant Ophthalmologist - Malabar Eye Hospital, Calicut, India - 2014-2016.
Awards & Academics
Academics Details
MD (General Physician) – Russian State Medical University, Moscow, Russia – 1996-2002
DNB (Ophthalmology) - Amrita Institute of Medical Sciences, Kochi, Kerala, India
Out Patient Timings
The outpatient timings at Badr Al Samaa Hospitals have been planned in such a way that your choice of doctor is available whenever you are free.
Sunday
3:00 PM - 11:00 PM
Muharraq - Bahrain
Monday
3:00 PM - 11:00 PM
Muharraq - Bahrain
Tuesday
3:00 PM - 11:00 PM
Muharraq - Bahrain
Wednesday
Thursday
3:00 PM - 11:00 PM
Muharraq - Bahrain
Friday
3:00 PM - 11:00 PM
Muharraq - Bahrain
Saturday
3:00 PM - 11:00 PM
Muharraq - Bahrain