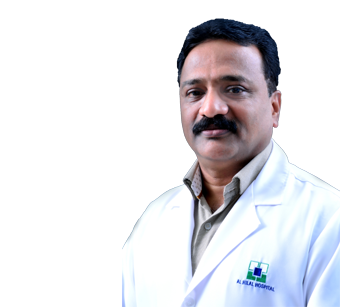 DR MANOJ KUMAR
Consultant Cardiologist
Cardiology
MBBS, MD, DNB, DM, FESC
24 years of experience
Muharraq (Bahrain)
About DR MANOJ KUMAR
Dr Manoj Kumar is a highly experienced Consultant Cardiologist with over 22 years of professional experience under his belt. During this period, his excellent training and work exposure has made him an expert in the diagnosis and treatment of all types of Cardiac diseases. He also excels in performing various cardiology- related tests including Echocardiography, TMT, Holter test, etc. So far, he has performed over 100,000 Echocardiograms, making him a highly experienced expert in reporting on them. He also excels in chest pain management and providing outstanding emergency care. Dr Manoj also keeps himself updated and attends conferences regularly.
Excellence & Experience
Area of excellence
Echocardiography
Chest pain management
Stress Testing (TMT)
Holter Monitoring
Emergency care
Awards & Academics
Academics Details
MBBS - Calicut Medical College, India - 1988
MD - Kottayam Medical College, India
DM - Kottayam Medical College, India - 1996
Out Patient Timings
The outpatient timings at Badr Al Samaa Hospitals have been planned in such a way that your choice of doctor is available whenever you are free.
Sunday
9:30 AM - 12:30 PM
Muharraq - Bahrain
4:30 PM - 9:30 PM
Muharraq - Bahrain
Monday
9:30 AM - 12:30 PM
Muharraq - Bahrain
4:30 PM - 9:30 PM
Muharraq - Bahrain
Tuesday
9:30 AM - 12:30 PM
Muharraq - Bahrain
4:30 PM - 9:30 PM
Muharraq - Bahrain
Wednesday
9:30 AM - 12:30 PM
Muharraq - Bahrain
4:30 PM - 9:30 PM
Muharraq - Bahrain
Thursday
9:30 AM - 12:30 PM
Muharraq - Bahrain
4:30 PM - 9:30 PM
Muharraq - Bahrain
Friday
Saturday
9:30 AM - 12:30 PM
Muharraq - Bahrain
4:30 PM - 9:30 PM
Muharraq - Bahrain