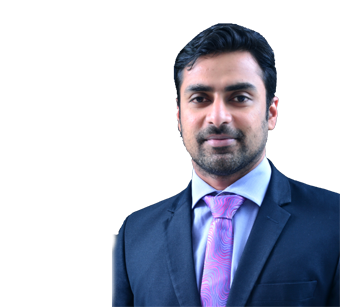 DR MUBARAK AZIZ
Specialist Oral/maxo.surgeon
Dentistry
MDS, MFD RCSI, MFDS (Glasgow)
4 years of experience
Muharraq (Bahrain)
About DR MUBARAK AZIZ
Dr Mubarak Aziz is a brilliant Maxillofacial Surgeon with vast experience under his belt. He has trained and worked in some of the best colleges and hospitals in India and holds prestigious qualifications. He is an expert surgeon for problems associated with the jaw and teeth. He is also highly knowledgeable in dental implants and prosthetic rehabilitation of teeth. Aside from experience in diseases associated with the salivary glands and management of cysts, tumors and malignant lesions of the jaw, Dr Mubarak also has an interest in cosmetic surgery including lip lengthening, dermal fillers, and Botox injections.
Excellence & Experience
Area of excellence
Management of orofacial and odontogenic infections
Management of cysts and tumors of the jaw
Management of diseases associated with salivary glands located in and around oral cavity
Management of dentoalveolar fractures
Management of panfacial trauma including fractures of the maxilla, mandibles and zygoma
Dental implants and prosthetic rehabilitation of tooth
Preprosthetic surgery for the for soft and bony tissues of the jaw
Management of TMJ disorders
Management of orofacial pain
Diagnosis and management of benign and malignant lesions of the jaw
Cosmetic surgeries including lip lengthening, injections of dermal fillers and Botox injections
Level of Experience
Surgical removal of wisdom tooth and Orthodontic exposure of tooth
Specialist Maxillofacial Surgeon – Badr Al Samaa Hospital, Bahrain – 2016 to Date
Assistant Professor – Dept of Oral & Maxillofacial Surgery, Azeezia Dental College, India – 2013-2016
Visiting Maxillofacial Surgeon – KIMS hospital, Kollam, India - 2016
Awards & Academics
Academics Details
MDS, MFD RCSI, MFDS GLASGOW)
Out Patient Timings
The outpatient timings at Badr Al Samaa Hospitals have been planned in such a way that your choice of doctor is available whenever you are free.
Sunday
7:00 AM - 3:00 PM
Muharraq - Bahrain
Monday
7:00 AM - 3:00 PM
Muharraq - Bahrain
Tuesday
7:00 AM - 3:00 PM
Muharraq - Bahrain
Wednesday
7:00 AM - 3:00 PM
Muharraq - Bahrain
Thursday
7:00 AM - 3:00 PM
Muharraq - Bahrain
Friday
Saturday
7:00 AM - 3:00 PM
Muharraq - Bahrain