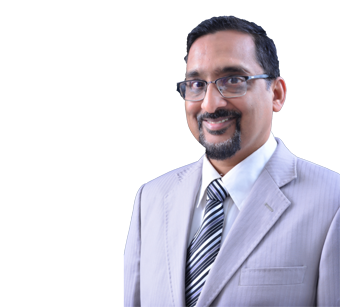 DR ABUZER SAIFEE SURKA
Consultant Paediatrician
Paediatrics & Neonatology
MBBS, MD
22 years of experience
Muharraq (Bahrain)
About DR ABUZER SAIFEE SURKA
Dr Abuzer Saifee Surka is a highly-respected Consultant Paediatrician with extensive experience in handling cases related to neonatal care. He has handled premature twins with weight less than 1kg. He is highly experienced in treating respiratory distress syndrome in preterm neonates and cases of meconium aspiration syndrome. He is also proficient in emergencies like neonatal resuscitation, mechanical ventilation, and non-invasive monitoring. He is very proficient in managing all types of pediatric issues, including respiratory, hormonal (childhood diabetes, thyroid disorders, etc) and hematological (anemia, thalassemia, sickle cell disease, bleeding disorders and immunodeficiency disorders) cases. Being a distinguished pediatrician, he also attends conferences and workshops.
Excellence & Experience
Area of excellence
Respiratory distress syndrome in neonates
Hyperbilirubinaemia in neonates
Meconium aspiration syndrome
Emergency neonatal resuscitation
Respiratory emergencies in paediatrics
Endocrine disorders in children (thyroid, childhood diabetes)
Haematological disorders in children (sickle cell disease, thalassemia, anaemia, bleeding disorders)
Level of Experience
Premature low birth weight twins
More than 20 years of experience
Worked in Kina Khalid Hospital Saudi Arabia
10 years of experience in India
Awards & Academics
Academics Details
MBBS - Gujarat University, India - 1962
MD - Gujarat University, India - 1996
Out Patient Timings
The outpatient timings at Badr Al Samaa Hospitals have been planned in such a way that your choice of doctor is available whenever you are free.
Sunday
9:00 AM - 12:00 PM
Muharraq - Bahrain
4:30 PM - 9:30 PM
Muharraq - Bahrain
Monday
9:00 AM - 12:00 PM
Muharraq - Bahrain
4:30 PM - 9:30 PM
Muharraq - Bahrain
Tuesday
9:00 AM - 12:00 PM
Muharraq - Bahrain
4:30 PM - 9:30 PM
Muharraq - Bahrain
Wednesday
9:00 AM - 12:00 PM
Muharraq - Bahrain
4:30 PM - 9:30 PM
Muharraq - Bahrain
Thursday
Friday
9:00 PM - 12:00 PM
Muharraq - Bahrain
4:30 PM - 9:30 PM
Muharraq - Bahrain
Saturday
9:00 PM - 12:00 PM
Muharraq - Bahrain
4:30 PM - 9:30 PM
Muharraq - Bahrain