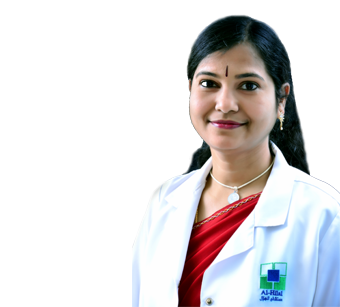 DR MYTHILI SURESH
Specialist Gynaecologist
Obstetrics & Gynaecology
MBBS, MD
18 years of experience
Muharraq (Bahrain)
About DR MYTHILI SURESH
Dr Mythili Suresh is a dynamic medical professional who is currently working as a Specialist in Obstetrics and Gynaecology with Al Hilal Hospital in Bahrain. She has had 16 years of diverse working experiences in India and the Maldives and has trained in some of the best colleges in India. This has given her immense exposure and experience in all aspects of antenatal care, delivery processes as well as postnatal care. She is also very proficient in gynecology related surgical procedures as well as insertion and removal of contraceptives. Dr Mythili     believes in ongoing education and regularly attends conferences and workshops.
Excellence & Experience
Area of excellence
Antenatal Care
Normal delivery
Caesarean section
Postnatal care
Ovarian cystectonomy
Tubal insertion
IVCD insertion
Contraceptive removal
Level of Experience
Specialist Gynecologist & Obstetrician - Al Hilal Hospital – 2014 to Date
Assistant Surgeon – Tamil Nadu Medical Services, India
Consultant Obstetrician & Gynaecologist – IGMH, Maldives
Out Patient Timings
The outpatient timings at Badr Al Samaa Hospitals have been planned in such a way that your choice of doctor is available whenever you are free.
Sunday
3:00 PM - 11:00 PM
Muharraq - Bahrain
Monday
3:00 PM - 11:00 PM
Muharraq - Bahrain
Tuesday
3:00 PM - 11:00 PM
Muharraq - Bahrain
Wednesday
Thursday
3:00 PM - 11:00 PM
Muharraq - Bahrain
Friday
3:00 PM - 11:00 PM
Muharraq - Bahrain
Saturday
3:00 PM - 11:00 PM
Muharraq - Bahrain