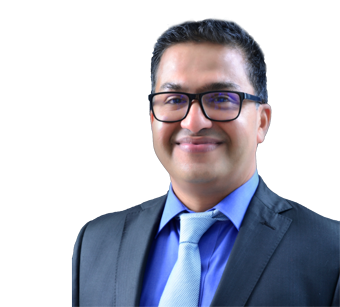 DR ABDUL JALEEL
Specialist Orthopedic
Orthopaedics
MBBS, D (Ortho)
22 years of experience
Muharraq (Bahrain)
About DR ABDUL JALEEL
Dr Abdul Jaleel is a Specialist Orthopaedic Surgeon with more than twenty years of diverse experience. He has worked as a Trauma Registrar in Unity Health Complex, Mangalore, a 200+ bedded hospital with an excellent OT and ICU. He has worked as specialist Orthopaedic Surgeon in Fathima Hospital, Kerala, garnering extensive experience in both major and minor surgical cases. He is an expert in fracture fixation, especially in cases of trauma. Aside from orthopedic surgery, Dr Abdul has an interest in the management of lower back pains and joint pains. He also takes part in CMEs and conferences to keep himself updated.
Excellence & Experience
Area of excellence
Treatment of low back pain
Joint pains
Orthopaedic ailments
Fracture fixation of all trauma cases
Level of Experience
1998 - 1999 - Casualty Medical Officer
1999 -2002 - As Trauma Registrar, Unity Health Complex, Karnataka
2002- 2006 - Orthopaedic Surgeon, Fathima Hospital, Kasargod, Kerala, India
2006 to date - Al Hilal Hospital, Muharraq, Bahrain
Awards & Academics
Academics Details
MBBS - Al Ameen Medical College, Bijapur, Karnataka, India
D (Ortho) - JJM Medical College, Davangere, Karnataka, India
Out Patient Timings
The outpatient timings at Badr Al Samaa Hospitals have been planned in such a way that your choice of doctor is available whenever you are free.
Sunday
9:30 AM - 12:30 PM
Muharraq - Bahrain
4:30 PM - 9:30 PM
Muharraq - Bahrain
Monday
9:30 AM - 12:30 PM
Muharraq - Bahrain
4:30 PM - 9:30 PM
Muharraq - Bahrain
Tuesday
9:30 AM - 12:30 PM
Muharraq - Bahrain
4:30 PM - 9:30 PM
Muharraq - Bahrain
Wednesday
9:30 AM - 12:30 PM
Muharraq - Bahrain
4:30 PM - 9:30 PM
Muharraq - Bahrain
Thursday
9:30 AM - 12:30 PM
Muharraq - Bahrain
4:30 PM - 9:30 PM
Muharraq - Bahrain
Friday
Saturday
9:30 AM - 12:30 PM
Muharraq - Bahrain
4:30 PM - 9:30 PM
Muharraq - Bahrain