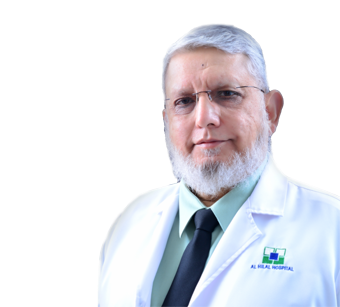 DR AKHTAR AMIN AHAMED
Specialist Paediatrician
Paediatrics & Neonatology
MBBS
40 years of experience
Muharraq (Bahrain)
About DR AKHTAR AMIN AHAMED
Dr Akhtar Amin Ahamed is a senior Specialist Paediatrician with over 38 years of experience in his chosen field. He is an expert in health issues related to children in Bahrain as all his vast professional experience has been garnered in Bahrain itself. He is proficient in taking care of children right from the neonatal age, in which he has a special interest. He is excellent in managing children of other age groups too and is able to develop friendly bonds with them for easier diagnosis and treatments. He handles all the relevant vaccination regimes for his young patients too.
Excellence & Experience
Level of Experience
Salmaniya Medical Centre, Bahrain – 17 years
Ahmad Mahmood Clinic, Bahrain – 12 years
Alhilal Hospital, Bahrain – 9 years
Out Patient Timings
The outpatient timings at Badr Al Samaa Hospitals have been planned in such a way that your choice of doctor is available whenever you are free.
Sunday
12:00 PM - 3:00 PM
Muharraq - Bahrain
Monday
12:00 PM - 3:00 PM
Muharraq - Bahrain
Tuesday
12:00 PM - 3:00 PM
Muharraq - Bahrain
Wednesday
12:00 PM - 3:00 PM
Muharraq - Bahrain
Thursday
12:00 PM - 3:00 PM
Muharraq - Bahrain
Friday
Saturday
12:00 PM - 3:00 PM
Muharraq - Bahrain