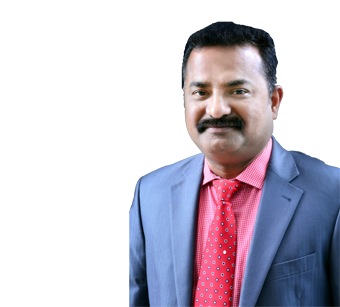 DR RAJEEVAN CHERALAN
Consultant E.n.t
ENT
MBBS, MS, DNB, DORC, DOHNS, MRCS
20 years of experience
Muharraq (Bahrain)
About DR RAJEEVAN CHERALAN
Dr Rajeevan Cheralan Patinhatayil is a highly qualified Consultant ENT Surgeon with over 18 years of excellence in his chosen field. This dynamic surgeon has been with Al Hilal hospital for over 6 years now and provides excellent ENT care to the people of Bahrain. He is very knowledgeable about both major and minor surgeries concerning the ear, nose and throat as well as the head and neck. Dr Rajeevan is also an expert in minor ENT surgeries and otolaryngology. His routine OPD procedures include oto microscopic ear cleaning, otoendoscopy, nasal endoscopy as well as foreign body removal.
Excellence & Experience
Area of excellence
Diagnosis & treatment of all Ear, Nose,Throat, Head & Neck related problems in adults & children
Routine OPD Procedures like oto microscopic ear cleaning, diagnostic otoendoscopy, nasal endoscopy and ear, nose and throat foreign body removal.
Evaluation and treatment of hearing impairment in both children and adults.
All minor ENT surgery, Tonsillectomy, Adenoidectomy, etc
Level of Experience
18 years of experience in ENT and Head and Neck Surgery
Awards & Academics
Academics Details
MBBS, MS, DNB, DORC, DOHNS, MRCS
Out Patient Timings
The outpatient timings at Badr Al Samaa Hospitals have been planned in such a way that your choice of doctor is available whenever you are free.
Sunday
9:30 AM - 12:30 PM
Muharraq - Bahrain
4:30 PM - 9:30 PM
Muharraq - Bahrain
Monday
9:30 AM - 12:30 PM
Muharraq - Bahrain
4:30 PM - 9:30 PM
Muharraq - Bahrain
Tuesday
9:30 AM - 12:30 PM
Muharraq - Bahrain
4:30 PM - 9:30 PM
Muharraq - Bahrain
Wednesday
9:30 AM - 12:30 PM
Muharraq - Bahrain
4:30 PM - 9:30 PM
Muharraq - Bahrain
Thursday
9:30 AM - 12:30 PM
Muharraq - Bahrain
4:30 PM - 9:30 PM
Muharraq - Bahrain
Friday
Saturday
9:30 AM - 12:30 PM
Muharraq - Bahrain
4:30 PM - 9:30 PM
Muharraq - Bahrain