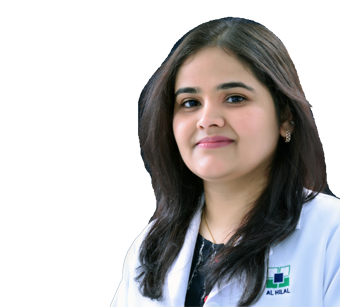 DR AYISHA SAYED KAZI
Specialist Gynecologist
Obstetrics & Gynaecology
MBBS, MS
5 years of experience
Muharraq (Bahrain)
About DR AYISHA SAYED KAZI
Dr Ayisha Sayed Kazi is a highly skilled Specialist Obstetrician and Gynaecologist. She has trained and worked in some of the best hospitals of great reputation in India. This has provided her with the expertise to deal with the management of high-risk pregnancies as well as preconception counselling. She is skilled in handling cases of infertility and is experienced in reproductive medicine. Her areas of interest also include management of menstrual abnormalities as well as preventive oncology in females. She handles the day-to-day OP patients efficiently and takes care of antenatal and postnatal cases too.
Excellence & Experience
Area of excellence
Management of High-risk pregnancies
Preconception Counselling
Infertility/Reproductive Medicine
Preventive Oncology
Menstrual Abnormality
Level of Experience
More than 3 years of experience in the below-mentioned hospitals
Cloudnine Hospital, India
SAKRA World Hospital
Awards & Academics
Academics Details
MBBS - M S Ramaiah Medical College, Bangalore
MS - OB GYNE- ESIC- MC- PGIMER, Bangalore - 2015
Out Patient Timings
The outpatient timings at Badr Al Samaa Hospitals have been planned in such a way that your choice of doctor is available whenever you are free.
Sunday
Monday
9:00 AM - 1:00 PM
Muharraq - Bahrain
Tuesday
9:00 AM - 1:00 PM
Muharraq - Bahrain
Wednesday
9:00 AM - 1:00 PM
Muharraq - Bahrain
Thursday
9:00 AM - 1:00 PM
Muharraq - Bahrain
Friday
Saturday
9:00 AM - 1:00 PM
Muharraq - Bahrain